Ruth Carter Hickman wants to make changes in an unfair world, a world that discriminates.
If the world was a nicer, equal place, then we would all be able to live in love and harmony, and everyone would have the same opportunities. Sadly, we don't live in such a world and this world we live in is filled with unjust and racism.
Ruth Carter Hickman is fed up with this unjust world. She is fed up with how the media ignore darker skinned Mexicans. She has launched an important project called The Mexican Tambien Project  with the hope to change things for the better.
The new project was launched to bring awareness to the beauty of darker skinned Mexicans and convince the media, including television, films, commercials, and magazines to acknowledge darker skinned Mexicans.
If we look at the television, and look at films and look at the models that appear in the top beauty magazines, how many Mexicans do you see in them? The answer would be, not very many.
The Mexican Tambien Project has been called one of the most important campaigns of 2020, so we decided to learn more about the campaign and what changes need to be made.
You have just started a new project, Can you explain what is the Mexican También" Afro Mexican Project?
The Mexican También Project is all about bringing awareness to the beauty of darker skinned Mexicans and how they too should be cast in mass media such as commercials, films, telenovelas, ads.
Why have you started a campaign to bring awareness of Afro Mexicans?
The project began after I was shopping in El Super Market in Mexico City last summer and noticed how all the ads in the store were so European and I was looking around the store and in Mexico City in general and noticed the beautiful darker shades of brown were the majority and not the minority. The problem is lack of representation in media of Afro Mexicans and Indigenous people.
So, do you think there is a serious problem?
The truth is that we are shaped by our experiences and our perceptions. Our views of the world are defined by what we see and what we hear and the media has always played a role in that.
We live in 2020, so why do you believe still today there is such a problem?
Throughout history, the media and arguably, our immediate environment, has controlled our self-image, and in the age of technology, we are becoming increasingly aware of the negative impact of what our eyes and ears consume.
Do you believe there is a need for more Afro-Latino representation in mainstream media?
YES! The denial of the African ancestry in the articulation of Latino panethnicity, Latinidad or Latinismo is evident in Latino ethnic media in the United States. There is limited representation of Afro-Latinos and Latinas in current programing even though they claim to appeal to all Latinos in the US and in Latin America. This trend has its roots in Latin American television.
Why do you believe the media ignore Afro-Latino's?
Overall, the contributions of Africans have left significant marks on many aspects of Latin American life including its history, its people, its music, its religion, its literature, its language, and even its everyday culture. The African element is one of three main components in the shaping of the multi-ethnic culture of Latin America. Black Latinos lack the privilege that lighter-skinned Latinos have, with an experience that's more akin to the racism and struggles of African-Americans.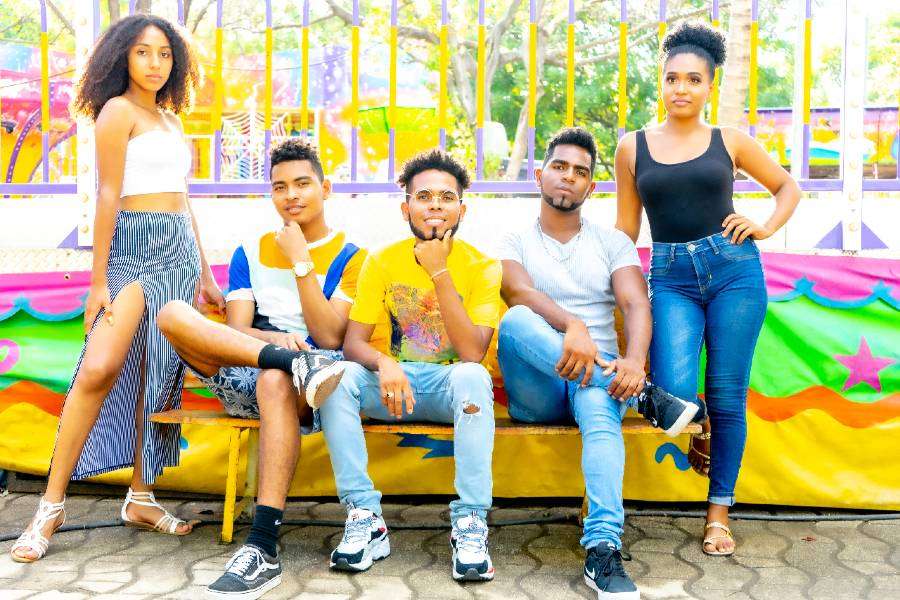 We don't see a lot of films with Afro-Latino's as the main star, can you see that changing?
I believe that it will change because of Youtube and many Afro Lationos creating their own content for example, the web series "Hella Black Mexican" a Cartoon-Telenovela of a young girl whose life changes when she realizes she's Black. I believe that popular culture, "has only just started to catch up to the existence of Afro-Latinas. Historically, when Hollywood or magazine covers have featured Latinas, they've been lighter-skinned celebrities like Salma Hayek, Jennifer Lopez, and Eva Longoria. More recently, Afro-Latina celebrities have been opening up about their identity, like host and actress LaLa Anthony, Orange Is The New Black's Dascha Polanco, and singer and Love and Hip-Hop star Amara La Negra. She told Refinery29 earlier this year that "a lot of Americans are only familiar with the race and colorism struggles of African-Americans, but this exists for Latinos as well."
Recent reports have said, those with lighter skin color often earn more than those with darker skin, what is your opinion on that?
Yes I do in fact a new study by a Vanderbilt University professor of law and economics found legal immigrants in the United States with a lighter skin tone made more money than those with darker skin. "Joni Hersch used data from 2,084 men and women who participated in the 2003 New Immigrant Survey. An interviewer reported the person's skin color using an 11-point scale where 0 represented the absence of color and 10 represented the darkest possible skin color. Even when taking into consideration characteristics that might affect wages, such as English language proficiency, work experience and education, Hersch found immigrants with the lightest skin color earned, on average, 8 percent to 15 percent more than immigrants with the darkest skin tone. Hersch said the effect of skin color even persisted among workers with the same ethnicity, race and country of origin. Hersch's research also found height played a part in salary. Taller immigrants earned more, with every inch adding an additional 1 percent to wages."
Do you believe we sill live in a racist world?
I do believe that we do still live in a racist world, I mean look at our current global leaders from Putin to Trump to Bolsonaro they have each demonstrated their ignorant racist views and are igniting hate in their countries amongst their own people. Racial and ethnic inequalities loom large in our global society. People of color face structural barriers when it comes to securing quality housing, healthcare, employment, and education in every country.
Are people born racist, or do you believe they are fed with bias information to become racist?
I do not believe people are born racist, I believe that people are taught to be racist as children and that it is passed down to generation to generation.
What are you hoping to achieve with your campaign?
I'm hoping to achieve awareness that Afro Mexicans exist and educate many Mexicans about their own history which many of them deny, or just do not know the truth. I also want to provide mainstream opportunities in media for my models and all Afro Latinos globally. Dark skin is beautiful and needs to be marketed as well not just light skinned European Latinos.
To learn more about Ruth, please visit www.ruthhickman.com